Overview
When the bill for a transcript is submitted on Vbill, the certifying attorney has the option of indicating whether or not they have yet received the transcript. If the attorney has received the transcript, they are required to verify the page count.
CPCS requires the last pages only when the attorney has indicated that they have not received a copy of the transcript; therefore the page count has not been verified.
On Vbill, the required paperwork will be listed, if applicable: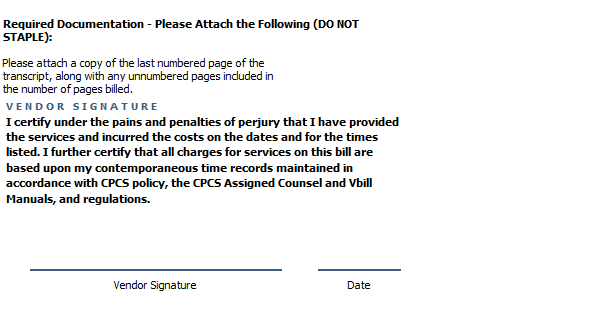 If the "last numbered page" requirement is not listed, you can save yourself some time and printer ink! Please do not send the pages unless they are required.
Note that CPCS does not require the OTS order form or a copy of your business's invoice, either. The only required paperwork is a signed print-out of the Vbill invoice, and any listed Required Documentation as shown in the example.